The racist governance of South Africa has done nothing like the ongoing White genocide against farming families continues, and now Black Land First President Andile Mngxitama says "we'll white children" who get in their way.
"We'll kill their children, we'll kill their women, we'll kill their dogs, we'll kill their cats, we'll kill anything that comes before us," said BLF President Andile Mngxitama.
"If we accept this from anyone our country is doomed," one South African posted on Twitter via the response.
The hateful remarks have not only gone viral across Social Media but have in return brought calls from government officials for charges of hate speech against Andile Mngxitama.
Andile Mngxitama has threatened an "arm struggle" should the Independent Electoral Commission of South Africa (IEC) deregister his party over his alleged hate speech.
Mngxitama argued that the media took his words out of context intentionally. His actions, he claims, are driven by peace, saying black people should learn to defend themselves.
"It is the responsibility of the media to ensure that messages are not distorted, and are not misquoted," he said.
South Africans aren't buying it, and Whites across the world are beginning to realize the very real threats against them by foreign-born migrants as a side effect.
In France, protests that the mainstream media has claimed is over "fuel taxes" have resembled an outright revolution.
French citizens fed up with forced migration, the assault upon their pride, and the overreach over government have proven that angry Whites will not take this genocide laying down.
To be a Caucasian in South Africa is similar to having a bullseye on your back, according to those on the ground across the lush African continent.
Over the last year especially tensions have risen, as farm deaths are largely ignored by the media as the genocide of White South Africans continues near-daily.
The Goldwater covered the plight of White South Africans just this last summer, which sparked a response from millions of concerned Whites across America.
South Africa: Stage Sanctioned White Genocide and the Impending Collapse of Society
Many Americans are eyeing South Africa as a possible future of America, especially as the government works to disarm those who utilize the Second Amendment.
Violence by way of racism occurring in South Africa puts White victims against black oppressors, in a nation where demographics became destiny.
Every time an innocent White farmer is murdered, the world media remains silent. This isn't by accident.
Lest we not forget, South Africa is plagued with problems such as lack of education, proper shelter and housing, and one of the world's most problematic spreads of HIV and AIDs.
That's not the only problem facing South Africa, as economic upturns seem to rarely if ever benefit the public.
This is in part due to the oligarchy-style of a ruling class, undercutting the people for their own greed. It's also due to the amount of South Africans in existence, versus the wealth of a nation who can barely feed themselves.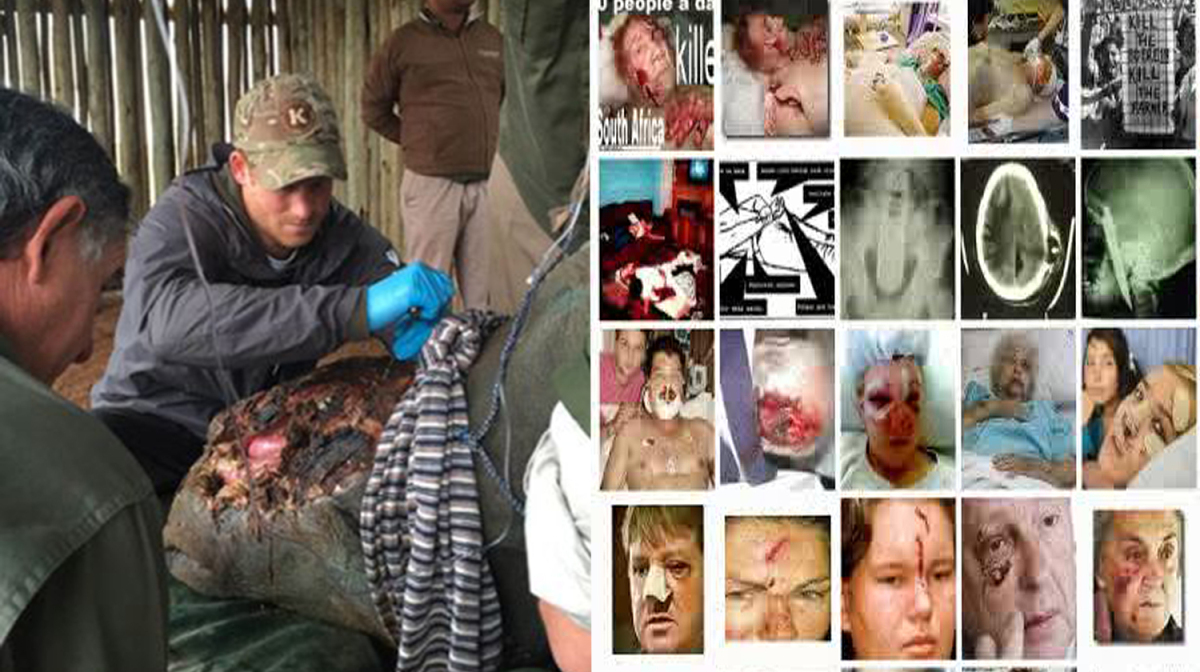 When the nation is struggling to employ their citizens you have to wonder why the overwhelming majority of them continue to procreate senselessly.
Americans can relate, as demographics continue to decide the outcome of elections and strip down the cultural impact of White Europeans and their ancestors.
"This is the first time there has ever been an overall non-Hispanic white natural decrease in the U.S.," demographer Kenneth Johnson told Bloomberg.
Dutch and British Colonialists are who brought the first breath of fresh air into South Africa, with them a multitude of tools and lifestyle changes to help the people prosper.
Instead, black South Africans are chanting hatred and despair, with no desire to coexist among the Whites who brought them from mud huts into civilization.
If there were ever a time to open America's doors to a people seeking refuge, look no further than the good people of South Africa, who are in a life or death struggle to survive.
Tips? Info? Send me a message!
~Send Me An E-Mail!
—
[email protected]
Follow Me on Twitter, Facebook, and Gab!
RedPillForAll
Follow Me On Gab!
@IWillRedPillYou
Follow via Facebook
Please, share this story- and leave a comment.
The Goldwater
🎄